Archive for July, 2011
♫ Tuesday, July 12th, 2011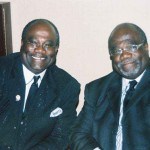 Happy Birthday dear Brother , Love Ya!
♫ Saturday, July 9th, 2011
Pastor Hurly J. Coleman, Jr. just recording a new CD project in June 2011. We'll get his take on this long-overdue project and discuss the production, who performed with him and where you can get the CD and when it will be available in a digital format.
Stay tuned!
♫ Tuesday, July 5th, 2011