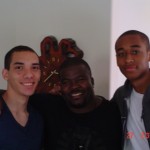 Video Documentary- July 2011
A2, MI – Chris and Aunt Phyllis
                                         Alex,Chris & Darren
1st up, Chris Coleman, son of  Pastor Ron and 1st Lady Lottie  and sister Christy of Kalamazoo MI. Chris stopped by while on tour with Chaka Khan and we had great time enjoying meeting up with cousin Britney while in town before the opening of  "State Fair." Let me be honest his real reason for coming to A2 was to have his favorite Zingerman's sandwich "The Georgia Ruben."   While here, cousin Alex and Darren had a great time talking with him about his travels around the world and playing with so many of the greatest recording artist on today's music scene. He also got on Alex's drums and worked out a little, wow!
We had an opportunity for a serious 45 minute videotaped interview to talk about family, his career, the challenges of learning the craft and being in such great demand.
This is the first interview of the 3rd generation of Coleman & Chatmans that will be featured in the documentary. We have authors, play writers, performers, speakers, educators and more that will be a great film production once completed.